Why Should A Reception Area Have A Coffee Machine?
If your business is reaching new heights of success year after year and bringing impressive growth in your professional life, it's because you know the importance of customers. Being customer-centric is no longer an add-on in today's cutting-edge competition. It's a necessity.
If you're considering placing a coffee machine in the reception area of your business, you're on the right track to nurturing your customers' satisfaction. Going the extra mile reflects that you care about the customers' experience. You're not just trying to take their money – you're considering their comfort and delight when they visit. Think of the coffee machine as a warm welcome.
If this level of customer service is important to you, read on to learn everything you should know before placing a coffee machine in the reception area of your business.
The Role of a Reception Area in Business
The reception area is the first point of contact for any visitor entering your business. After all, the first impression is the last impression; it's hard to recover that initial moment people take in your business environment and feel. The experience of the reception area sets the tone for the rest of their experience on your premises.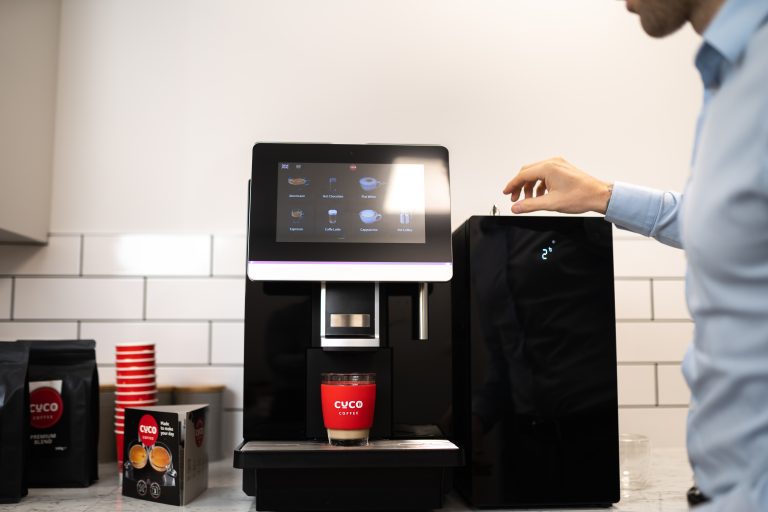 One way to define being a customer-centric company is that your your business is consciously working to keep every aspect of your customer touchpoint pleasant.
A welcoming, comfortable reception area says a lot about your company. It subtly imparts that you value your customers' time and that you see them as a human first and a customer second.
What does that give back to you as a business owner? Quite simply, it can encourage repeat business and word-of-mouth referrals from existing customers since your business has left an unforgettable customer experience.
The Impression a Coffee Machine Can Make
Imagine you enter a doctor's clinic and sit in the waiting or reception area before you're called. Moments later, you smell the subtle and aromatic smell of Arabica coffee. Your brain starts to imagine coffee. Since you're tired, you could use a cup or two. Then, you see a coffee machine in one corner, and to your delight, you realise your waiting experience has already been upleveled.
A coffee machine in your reception area immediately elevates the experience for visitors.
The smell of freshly brewed coffee and the availability of premium hot beverages show that you've gone above and beyond to make customers or clients feel cared for. It's a simple gesture that makes your customers feel welcomed and valued.
Placing an aesthetic, modern coffee machine is also crucial. It gives the impression that you invest in high-quality equipment and your business is successful. Also, it shows that you pay attention to the smallest details and want to give an exceptional customer experience.
5 Best Options for a Coffee Machine in Your Reception Area
From commercial coffee machines to rental coffee machines for your reception area, there are many options to choose from.
Here are some coffee machine options that can fit in the reception area of your business premises:
Filter coffee machines are an affordable option to provide your customers with simple fresh hot filter coffee. It's easy to use and maintain and cost-effective, especially if you own a small business or are just starting.
Bean-to-cup machines are another simple concept. These machines start with grinding whole coffee beans to then extract the espresso shots so you can make espresso-based drinks like lattes and cappuccinos at the push of a button. As you can guess, this machine offers fresh coffee and is expert in attracting coffee lover customers.
Another kind of coffee machine is the super-automatic one. It works similarly to bean-to-cup machines to make espresso drinks using fresh beans. The only difference? It has features like built-in milk frothers and the ability to customise drink strengths and sizes.
Vending machine-style coffee machines are good for reception areas, too. It allows you to pre-load coffee, milk and other ingredients. With little to no maintenance, your customers get a variety of hot drinks at the touch of a button.
Instant coffee machines use freeze-dried soluble coffee to produce coffee, espresso and other hot drinks in seconds. They offer speed and convenience. The one disadvantage? Coffee experts may find the taste lacking.
Benefits of Having a Coffee Machine in Your Reception Area
Here are some of the specific points that outline why you should consider having a coffee machine in your reception area:
No one likes to wait. Coffee machines make waiting more bearable for your customers and clients. Having the option for a quality hot beverage improves the customer experience, which is an investment in your brand image.
Serving complimentary drinks shows hospitality and appreciation for your customers' time. This also positively reinforces your brand image and shows that you value their patience.
The aroma of freshly brewed coffee fills the reception area. It activates the senses to make the environment more welcoming for customers and clients coming to your business premises.
When you offer speciality coffee drinks like cappuccinos, it caters to all customer preferences and tastes.
Self-serve coffee machines enable your customers to grab the coffee cup at their convenience without intervening staff.
Choosing the Right Coffee Machine
You know coffee machines are important and how they can uplift customer experience for your business. The next question you ask is, "how do I choose the right machine?"
The answer is very subjective. And it depends on your business needs and the type of audience. While there is a range of coffee machines available in the market, you don't want it to be your bad investment.
Here are some factors to consider before you choose the right coffee machine for your business:
Consider your budget. Machines range from affordable ~ €100 filter coffee makers to premium ~ €5000 or more super-automatic machines. Set a budget to narrow options.
Assess the drink variety needed. Bean-to-cup and super-automatic machines offer the most drink options for diverse tastes. Simple filter or instant coffee machines have a limited selection.
Determine the required capacity in your business. Larger businesses may need a high-volume machine that can keep up with demand during rush hours. Compact machines are better suited for small businesses.
Evaluate convenience and ease of use. Super-automatic and vending machines are exceptionally easy for self-service. Manual espresso machines require trained baristas.
Prioritise speed or quality as per your target customer base. Bean-to-cup machines quickly dispense consistent quality drinks. Manual espresso machines are slower but offer barista-style quality when operated by a skilled barista.
Consider plumbing requirements. Some machines must be plumbed into water lines, while others can work with pour-over water.
Look for low-maintenance models. Choose machines with dishwasher-safe parts, automated cleaning cycles and removable brewing groups for easy maintenance.
Summing Up
An inviting reception area is crucial for making a great first impression on guests and is one step forward in becoming a better customer-centric company. A coffee machine elevates the reception area by signalling quality, care and hospitality.
There are many types of coffee machines suitable for reception areas, ranging from simple filter coffee makers to high-end bean-to-cup coffee machines.
Key benefits include:
Improving the waiting experience
Conveying appreciation for your customers
Delighting coffee aficionados (there are a lot of coffee lovers on this planet!)
And establishing your business as one that goes the extra mile.
All of these points encourage your customers to return and share their positive experience to other potential customers.
Carefully match a coffee machine to your business needs and audience based on budget, capacity, ease of use and other factors. Investing in the right coffee machine for your reception area can pay dividends through better customer experiences.